History of Dunlap Buildings
Welcome to the History of Dunlap Businesses page. This page will continue to build, with information being added over time.

Currently, we are focusing on DCDC business members and main street buildings, but over time, we will expand further.
Want us to research your building? All you have to do is be a DCDC business member and we will put you on the schedule to be featured in our "Membership Monday" spotlight!

If you have factual information (business names, owners and/or years) for any of these buildings or photos to add/edits to any of the information listed thus far, please email them to DunlapDCDC@gmail.com.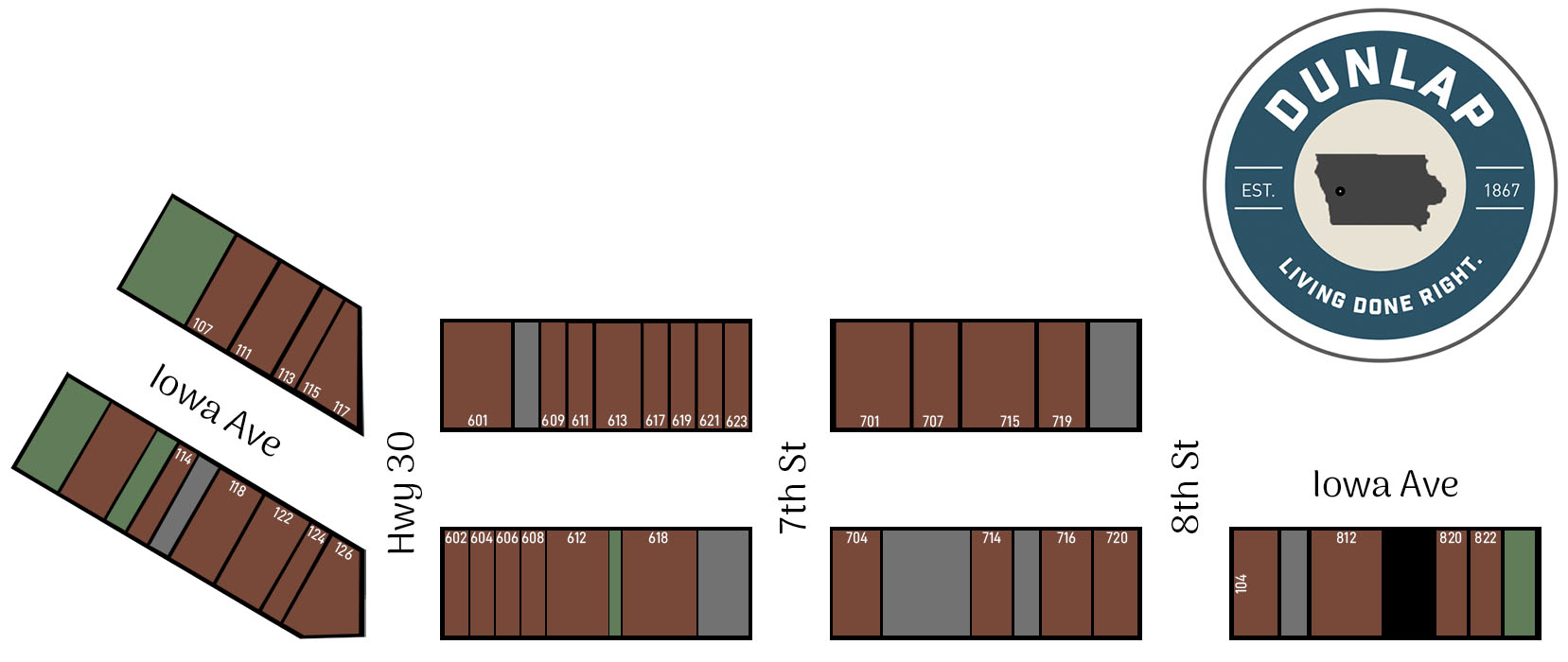 107 Iowa Ave - Nuther Round Bar
111 Iowa Ave - Elite Ag Insurance
Wild Daisy Bridal
113 Iowa Ave - Dunlap Heating and Plumbing
115 Iowa Ave - Roberto's Pizza
117 Iowa Ave - Crossroads Wine & Liquor
-
601 Iowa Ave - Community Bank*
609 Iowa Ave - Vintage Envy Boutique
611 Iowa Ave - Common Grounds*
Common Threads Boutique*
Schaben from Scratch*
617 Iowa Ave - Hoffman Agency*
619 Iowa Ave - Dunlap Senior Center
621 Iowa Ave - Heap's Electric
623 Iowa Ave - Bonsall Warehouse*
-
701 Iowa Ave - Sullivan Supply Warehouse*
707 Iowa Ave- Klein Senior Insurance*
Hair by Carly Grady
715 Iowa Ave - Dunlap Fire Dept.
719 Iowa Ave - Dunlap Post Office
-
Former Dunlap Locker
114 Iowa Ave - Cottonwood Event Center*
116 Iowa Ave - Dairy Sweet Parking Lot*
122 Iowa Ave - Wendt's Pots & Posies
124 Iowa Ave - The Hair Station*
Mindful Treasures
126 Iowa Ave - Solsbury Hill Home & Gifts*
-
602 Iowa Ave - Bank Building
604 Iowa Ave - Karen's Consignments
606 Iowa Ave - Total Look and Massage by Ella
608 Iowa Ave - The Dog House Bar & Grill
612 Iowa Ave - DCDC Building*
Community Pharmacy
Family Connections
Hair by Megan Hanigan
Horizon Physical Therapy*
Lambert Family Chiropractic*
618 Iowa Ave - Bonsall TV & Appliance*
History of Building A | Building B | Building C
-
704 Iowa Ave - CHI Health*
714 Iowa Ave - Dunlap Food Pantry
716 Iowa Ave - Dunlap City Hall*
720 Iowa Ave - JJ and Son's
-
104 8th - Old Library Building
812 Iowa Ave - Smitty's Grocery*
820 Iowa Ave - Dougal House
822 Iowa Ave - McLean Museum
DCDC Members with locations beyond Main Street
Baldwin Electric*
Classic Leather Inc.*
Dunlap Golf Course*
Edward Jones Financial*
Empire Land & Cattle*
Fout's Funeral Home*
McCord Seed Store*
Rockin' K Solutions*
Silver Fox Foundation*
The Town and Country Store*
United Bank of Iowa*

*Business is a DCDC Business Member for the current (2023-24) membership year.